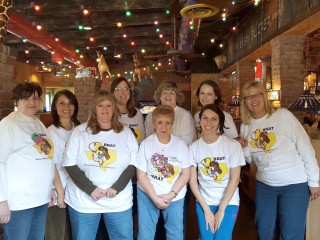 Anne Fifield loves Basset Hounds, and she loves RescueGroups.org.
Anne came to Basset rescue by way of a Toy Manchester Terrier she got in 2004. After a month, she wanted her new pup to have a playmate. Her husband Tom wanted the next dog to be  a dog for him, and he liked long-bodied dogs. Anne thought, "Okay, great, a Dachshund." But no, he had a different idea - a Basset Hound.
"They are big; they drool; they are hard to train. Nearly everything I didn't want in a dog is embodied in a Basset," Anne laughs. They adopted an 85-pound shelter Basset, "And our lives were turned upside down."
When that first Basset passed on, "We knew we needed another Basset," she said, tears creeping into her voice as she remembered. "We had Karlie within a week."
In 2006, Anne began volunteering for the group from which she adopted Karlie. In 2008, she started working with a Basset rescue in Houston.
"In 2011, Bassets were still dying in the Dallas area. One Basset rescue in Dallas just wasn't enough," she said. "We started by picking dogs up in Dallas and taking them to Houston to save."
A former adopter pitched in the cash to help the fledgling Basset Rescue Across Texas open its doors in 2011 with three primary volunteers. "I knew I wanted BRAT in the name because that's what Bassets are - big, lovable, adorable brats we love dearly."
In her work as a volunteer for the first rescue group, Anne had used RescueGroups.org technology, and as soon as BRAT began, she signed the new group up for all of the RescueGroups.org services. "BRAT uses the voicemail, the website, the email, the email services so we can send out an email blast, the reporting...it's all been so very helpful.
"The group in Houston used spreadsheets and email for all their tasks.  It was like going back to caveman days." She helped the rescue in Houston to work more efficiently by signing them up with RescueGroups.org. To this day, they are still using all of RescueGroups.org services. They thank Anne for that contribution.
"If you aren't using RescueGroups.org, then you're working in the dark ages. You can do as little or as much as you want. It will make your rescue efforts so much easier. I wouldn't be able to do rescue without them."
"The beauty about RescueGroups.org is you don't need to be tech savvy," she said. "Another thing I love is that all of your volunteers are working on the same system. Files and information don't get lost. With the Website service, I don't need to keep paper records. All my files are kept electronically. "
Anne cites the online applications and the exports to adoption sites as two of the most helpful RescueGroup.org services.
"If you have the Pet Adoption Portal or Website service, you don't need to manually upload your animals to other sites for exposure. RescueGroups.org does it for you. It helps so much to get our dogs out to over 200 sites. When I put a dog on my website, I don't have to worry about advertising it to get it adopted."
Anne says she's an ambassador for RescueGroups.org technology. She even volunteered with RescueGroups.org for a while. "When people tell me all they need is the Pet Adoption Portal, I say, 'You have to have it all!'"
Not only is she a fan of all the technology services, but "I couldn't believe the prices for what you get." She concluded, "I like that RescueGroups.org is a nonprofit like us. They understand the needs of nonprofits."
RescueGroups.org has helped many other organizations like Basset Rescue Across Texas to realize their dreams of streamlined animal management, increased adoptions, and greater visibility. We understand dreams.